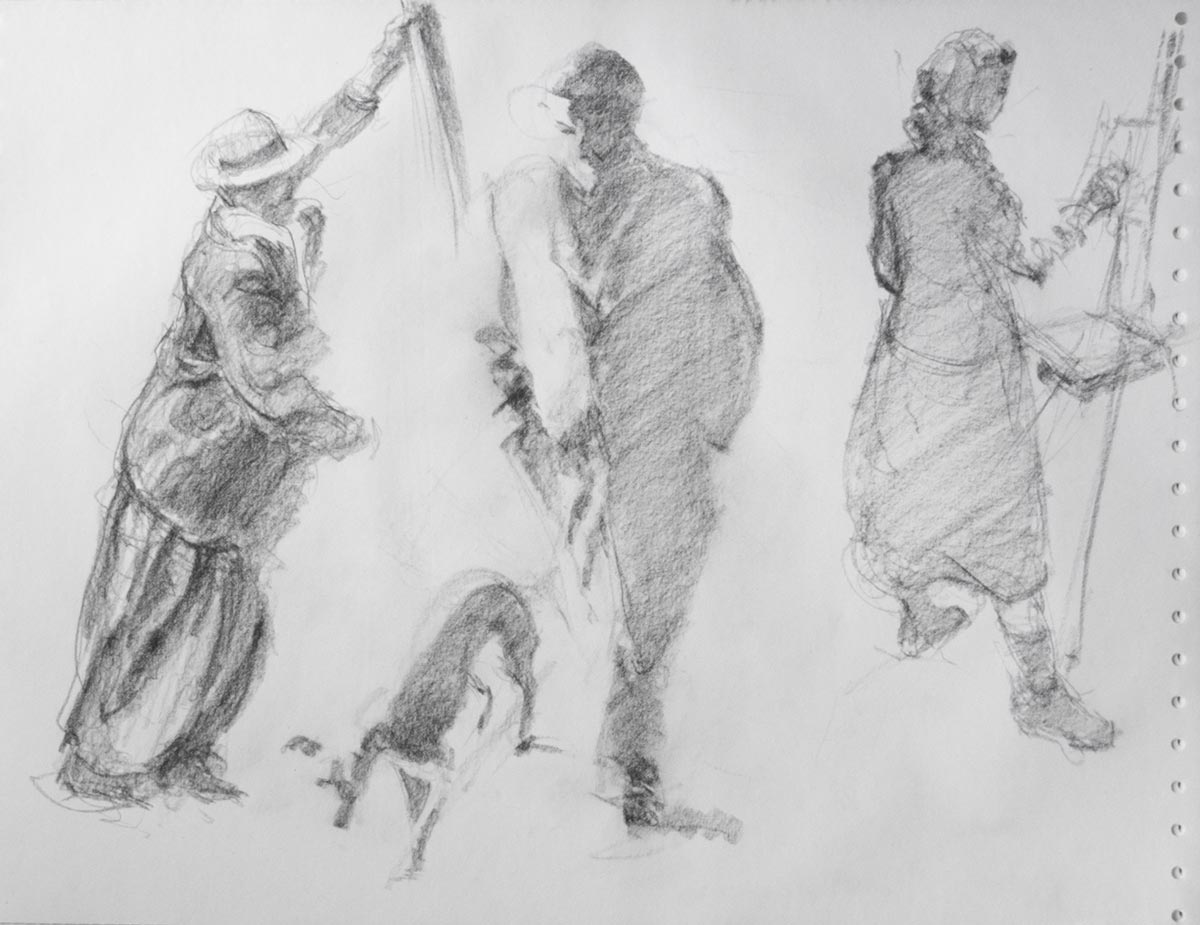 When I'm drawing, I find I frequently change the way I interpret what I am seeing in order to get it down on paper. Sometimes, the scene is an abstract arrangement of flat shapes, and the drawing is an attempt to copy that collection of unidentified blobs and curves as accurately as possible. At other times, I see the object as a construction of primitive shapes, where an arm becomes a foreshortened cylinder or a torso becomes a rounded block.
The Betty Edwards classic Drawing on the Right Side of the Brain has a central message to draw what you see rather than what you know, and ignore the generic image of a cup, a tree, a face that we have stored in our minds and replace it with the collection of light and dark forms right there in front of you.
Of course, the labelling 'left brain' can have its uses, for instance to recognise that the eye is probably more important to get exactly right in a portrait rather than accurately drawing every last lock of hair. But once the important area has been identified, the 'right brain' can take over so that it is no longer 'an eye' but a collection of interlocking forms and shapes.
By contrast, using the construction method to draw takes what we see and transforms it in the virtual reality of our minds into a simple shape, and then we draw that shape.
One method isn't necessarily better than another; they're all useful tools to get an image down on a flat surface, and I find it useful to switch from one method to the other. So, as I draw, an abstract blob can turn in to 'an arm curving around an elbow in to the forearm', which in turn turns into a construction of cylinders, pyramids and elongated spheres leading in to the square block of the wrist. And as I draw that, the shadow shapes take over again.
[Photo credits for the three photos copied above: Martin Munkácsi, Neil Libbert, Pierre Parente via aucharbon.]