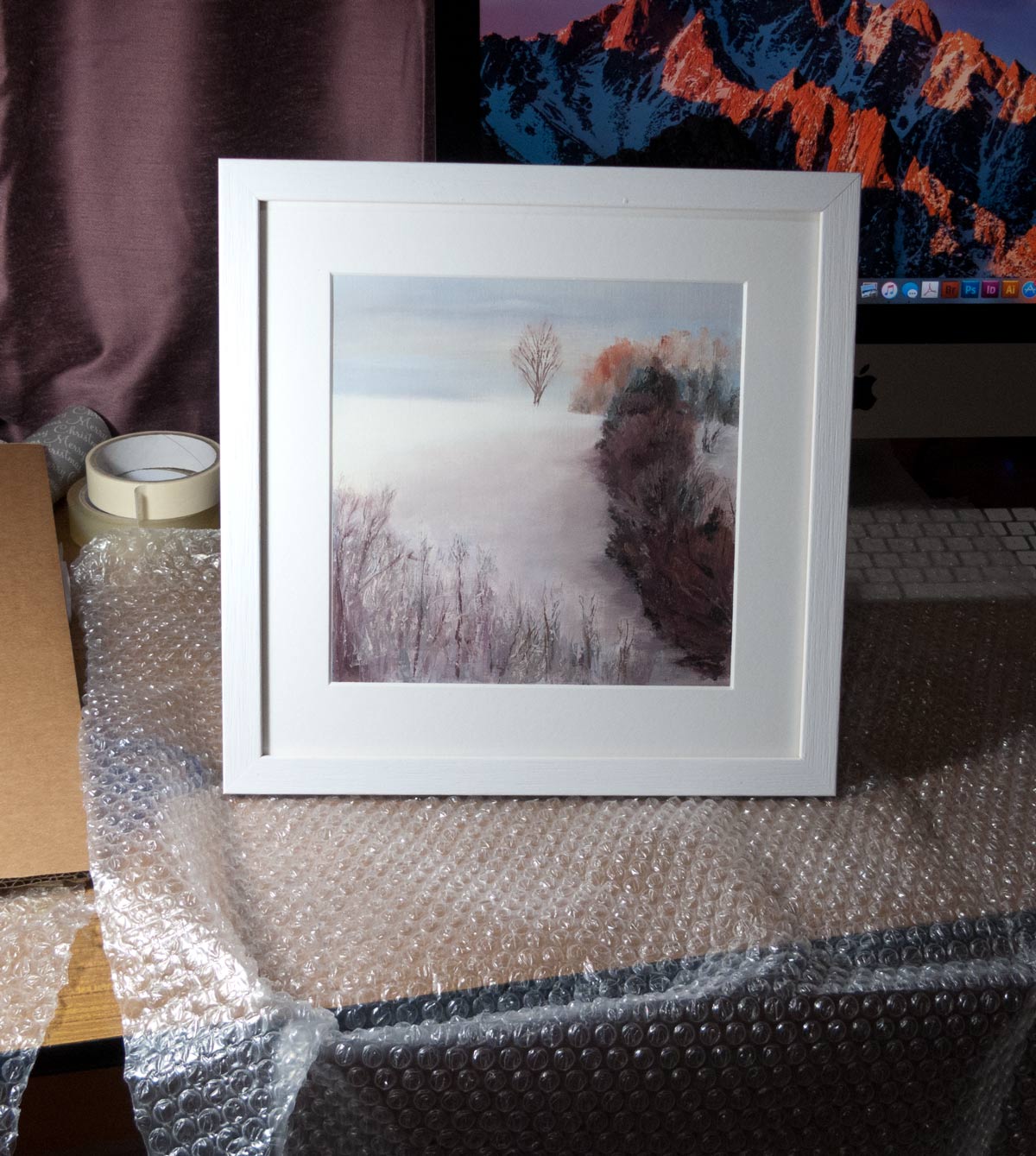 It's surprising how much a picture can be transformed by putting it in a frame. I wrote about these two oil paintings in previous posts (here and here) but at the time had no plans as to how to display them.
At first, I thought about varnishing them and then trying to find a frame that would fit. Varnish tests made me wonder if this was the right way to go. Varnish changes the overall appearance of the surface, with a gloss varnish creating a shiny glare if viewed at the wrong angle, or a matt varnish potentially dulling the colours. I did order some matt and gloss Gamvar as an experiment but didn't have time to test them thoroughly.
My attempts to find an off-the-shelf frame from local picture framing shops met with frustration as both pictures were non-standard sizes and having a custom frame built would be expensive. Even if I could find the right size frame, I would still need to attach the picture to some kind of backing board.
Attempts to stick a test piece of scrap canvas to a hardboard backing using PVA glue didn't really work. Maybe I was doing it wrong, but the glue didn't form a strong, even bond with the canvas, and the hardboard backing started to warp.
In the end, I decided to display them behind glass (actually a good-quality perspex) with a matt board to hold the picture flat. This was also a good option as one picture was on gessoed paper and the other on a loose sheet of canvas. I ordered the frame online using a service which allowed me to enter the exact picture dimensions and size of the matt board to arrive at the custom frame size. There was also an option to add a hinged frame stand to the back (for smaller picture sizes) and there were many different frame styles and colours to choose from.
This gets around the whole problem of building the picture to fit the frame (which isn't always how paintings are made). Instead, the picture can be constructed to the size and proportions which suit the subject, and then framed later.
That said, I've just bought a stack of aluminium panels of A-series dimensions (A5, A4, A3 and A2), thinking that it will be easier to drop them into standard off-the-shelf frames.